wingfoil
Outdoormix Festival
⚠️we are SOLD OUT for Saturday night! It is therefore no longer possible to take advantage of the FULL offer including access to the concerts ⚠️
Only the Rider Passes for access to the competitions remain on sale.
L'Outdoormix Festival présente depuis 2013 le meilleur parcours rivière
Still very young on the Outdoormix, the Wing Foil is coming up with some new features.
This year, the competition will take place over 3 days! This will make both riders and public happy.
A promising program awaits you again for this edition: with the addition of a Raid on Monday. The Outdoormix is especially this year, a stage of the Tour Wing, let's go!
The Outdoormix Festival is one of the national events of this new discipline and intends to impose its style with an open, complete concept and as always the key word 'conviviality' will be part of the event. *
WINGFOIL RACE
COMPETITION INFO
Competition format Convivial course of Wingfoils & Raid
Open to 60 riders
Open competition From 12 years old (U14 category)
Competition venue
  ⯈ Parcours construit : Plan d'eau d'Embrun
  ⯈ Raid course : Plage des eaux douces
REGISTRATION INFO
Required documents
  ⯈ Valid internationale sport license
  ⯈ Medical certificate (-1 year) for the practice of Wingfoil in competition
  ⯈ Parental authorization for minors.
How to register Via the form below.
* For any registration with a medical certificate, a supplement of 31€ will be asked for the compulsory purchase of a FFV license for the 3 days.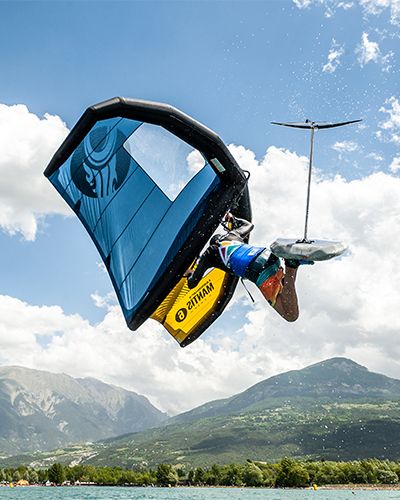 COMPETITION PROGRAM
Mandatory briefings
  ⯈ Saturday, May 27 | 11am to 12pm |
  ⯈ Sunday, May 28th | 11am to 12pm |
  ⯈ Monday, May 29th | 11am to 1pm |
Convival
  ⯈ Saturday, May 27 | 12am to 7pm | *
  ⯈ Sunday, May 28th | 12am to 7pm | *
  Please note that schedules may vary depending on weather conditions*
Raid Monday, May 29th | 1pm to 4pm |
Convival podium schedule Sunday, May 28th | 7pm to 8pm |
Schedule podium raid Monday, May 29th | 6pm to 7pm |

EQUIPMENT & PROTECTIONS
Required equipment Wing and Foil board in sailing condition
Mandatory protections Helmet (Standard "EN 1285") | Personal flotation devices (PFD -30kg and less: 100N / More than 30kg: 50N) | Jacket or impact vest | Isothermal suit long legs 2mm minimum
SPORTS PASS - WINGFOIL
FULL PASS - 95 €
This Sports Pass includes:
Access to the convivial and the Raid
Access to the 3 nights of concerts
The possibility of coming with
Free access to the Clapiere campground from Thursday evening to Monday morning or for more comfort at the Club Nautique Alpin Serre Ponçon for 8€/day/person
The runner's meal offered by the Club Nautique Alpin Serre Ponçon on Sunday evening
A physiotherapy session
The official T-shirt of the edition
And many goodies.
Remember to buy your pass online
10 €** surcharge for on-site registration.
Please note that this pass does not include catering.
WANT TO COME ACCOMPAGNIED ?
This pass is intended for athletes who have purchased for the PASS FULL.
To add a companion, you will receive a specific code by e-mail once your registration has been validated by an administrator.
COMPANION PASS - 85 €
Access to the 3 nights of concerts
Access to the campsite from Friday evening to Monday morning
The official T-shirt of the edition 
And many goodies.
SPORT CATEGORY INFO FOR 2023
| CATEGORY | YEAR OF BIRTH | AGE IN 2023 |
| --- | --- | --- |
| U10 | 2015 & 2014 | 8 years & 9 years |
| U12 | 2013 & 2012 | 10 years & 11 years old |
| U14 | 2011 & 2010 | 12 years & 13 years old |
| U16 | 2009 & 2008 | 14 years & 15 years old |
| U18 | 2007 & 2006 | 16 & 17 years old |
| U20 | 2005 & 2004 | 18 & 19 years old |
| Senior | 2003 to 1984 | 20 years old ➜ 39 years old |
| Veteran 1 | 1983 to 1974 | 40 years old ➜ 49 years old |
| Veteran 2 | 1973 and before | 49 years & older |
We
are

hautesalpes
Press kit - Partnerships - Others