Editions
Outdoormix Festival

LOCATION: EMBRUN (French Southern Alps, France)
Born in 2013, the Outdoormix Spring Festival has seduced the entire world of outdoor and music thanks to an event concept that brings together all types of enthusiasts, from amateurs to professional athletes, from the simply curious to the most seasoned festival-goers.
Located on the Embrun waterfront, the event brings together more than 100,000 people, 50 brands, 23 nations of outdoor sportsmen and women and 400 volunteers over 4 days of festivities.
Following the cancellation of edition 8 due to the health crisis in 2021, edition 9 promises to go down in history with new features that will further enrich the experience of our festival-goers. Don't miss the Outdoormix Spring festival from 21 to 24 May 2021!
Spring aftermovies playlist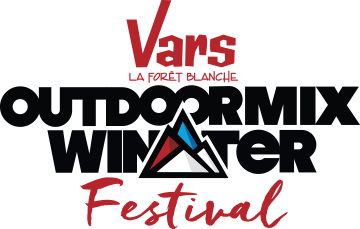 LOCATION: VARS (French Southern Alps, France)
Born in 2018, the Outdoormix Winter Festival quickly earned a place among the best winter events in Europe. Like its big brother the Outdoormix Spring, the event brings together a variety of winter sports. Once again the event caters to all styles of public: from novice to pro-riders, from sports performance to dancefloor.
Located in the heart of the resort of Vars la forêt blanche, the event brings together 400 athletes from all over the world, 2000 festival-goers and more than 50 volunteers who make these 5 days of festivities in the snow possible!
Do not miss the 4ᵉ edition of the Outdoormix Winter Festival to be held from January 13 to 17, 2021 in Vars la Forêt Blanche!
Winter aftermovies playlist
We
are

hautesalpes
Press kit - Partnerships - Others