Climbing
Outdoormix Festival
When we talk about climbing at the Outdoormix Festival, we're talking about bouldering. And with a smile!
Indeed, our Bouldering Party is open to all levels in a friendly atmosphere of exchange.
A contest on 3 walls opened by the organizers of Tout à Bloc with a little novelty: A contest of throw!
The format of the contest will be in unlimited trials for the qualifications and in 3 trials for the final.
Rider registration opens on March 16, 2023.
CLIMBING
COMPETITION INFO
Competition format Bouldering & Concours de jeté
Competition venue Event village
Block description Two blocks of 5 x 5 meters and the Verdon Design (square block with 4 sides)
---
REGISTRATION INFO
Mandatory documents
  ⯈ Valid internationale sport license
  ⯈ Medical certificate (-1 year) for the practice of climbing in competition
  ⯈ Parental authorization for minors
How to register Via the form below.
* *For any registration with a medical certificate, a supplement of 5€ per day of competition will be asked for the compulsory purchase of a FFCAM daily license.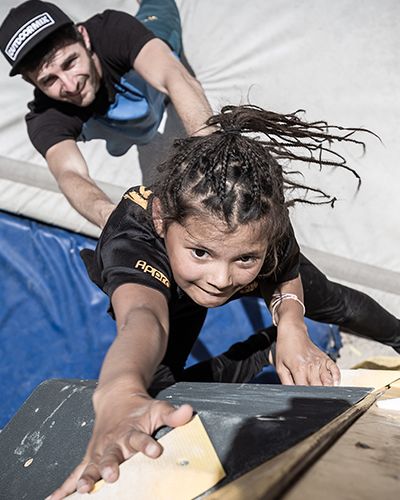 MATÉRIEL & PROTECTIONS
Slippers
 
Magnesia gel only
Disciplines
Senior Contest
COMPETITION INFO
Competition format Convivial block open to all.
Open competition From 12 years old (category U14)
Open to 90 maximum | 30 riders / qualification phases
Prize money 500€ & numerous prizes
COMPETITION PROGRAM
Qualifying times
  ⯈ Friday, May 26th | 2pm to 4am |
  ⯈ Saturday, May 27 | 10am to 12pm & 2pm to 4pm |
Training hours are mandatory Sunday, May 28th | 2pm to 3pm |
Final schedules Sunday, May 28th | 3pm to 6pm | *
  *Only from U16 category
Horaires podiums Sunday, May 28th | 7pm to 8pm |
Junior Contest
COMPETITION INFO
Competition format Convivial block adapted to children
Open competition Only for children under 10 years old (category U12)
Open to 40 riders
Prize money Many prizes
COMPETITION PROGRAM
Competition schedule Sunday, May 28th | 10am to 1pm |
Podium schedule Sunday, May 28th | 7pm to 8pm |
We
are

hautesalpes
Press kit - Partnerships - Others