Longboard
Outdoormix Festival
Riders from France and Europe, we are waiting for you with the same impatience and admiration to come and shred the road of Réallon.
This year there will be plenty of fun to be had. Every day freeride sessions will take place at the Réallon spot. All this on a descent of more than 4km long and a good slope, just to take full speed!
New this year, come and try the skate test on the new Pumptrack !
LONGBOARD FREERIDE
FREERIDE INFO
Competition format International longboard freeride event
Open to 120 riders
**Open ** From 14 years old (category U16)
Freeride venue At the ski resort of Réallon
Line description A descent of more than 4 kilometers long and 400 meters of difference in altitude, composed of 9 hairpins, all with an average slope of 7.5%.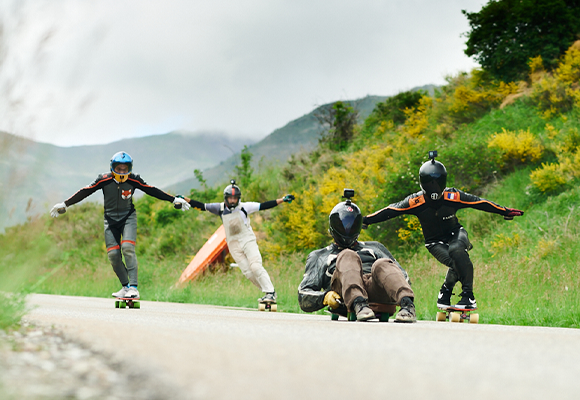 REGISTRATION INFO
Required documents
  ⯈ Valid internationale sport license
  ⯈ Medical certificate (-1 year) for the practice of mountain biking in competition
  ⯈ Parental authorization for minors.
How to register Via the form below.
* For any registration with a medical certificate, a supplement of 10€ will be asked.

EQUIPMENT & PROTECTIONS
Required equipment Full face helmet | Gloves and pucks
Mauthorized equipment
  ⯈ Longboard
  ⯈ Streetluge
  ⯈ Roller
  ⯈ Freeboard
Protections strongly recommended Elbow pads | Knee pads | Full body suit
PROHIBITED Drift Trike
We
are

hautesalpes
Press kit - Partnerships - Others