Longboard
Outdoormix Festival
⚠️We are SOLD OUT for Saturday night! It is therefore no longer possible to take advantage of the FULL offer including access to the concerts ⚠️
Only the Rider Passes for access to the competitions remain on sale.
Please note that the road leading to the Réallon station will be disrupted from 9am to 6pm. During this period, the road will only be open for 15 minutes every hour.
Riders from France and Europe, we are waiting for you with the same impatience and admiration to come and shred the road of Réallon.
This year there will be plenty of fun to be had. Every day freeride sessions will take place at the Réallon spot. All this on a descent of more than 4km long and a good slope, just to take full speed!
New this year, come and try the skate test on the new Pumptrack !
LONGBOARD FREERIDE
FREERIDE INFO
Competition format International longboard freeride event
Open to 120 riders
**Open ** From 14 years old (category U16)
Freeride venue At the ski resort of Réallon
Line description A descent of more than 4 kilometers long and 400 meters of difference in altitude, composed of 9 hairpins, all with an average slope of 7.5%.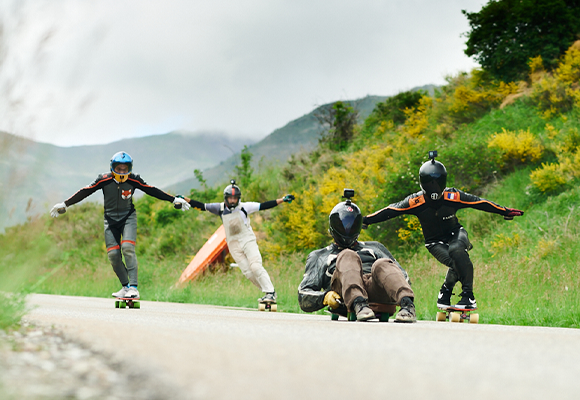 REGISTRATION INFO
Required documents
  ⯈ Valid internationale sport license
  ⯈ Medical certificate (-1 year) for the practice of mountain biking in competition
  ⯈ Parental authorization for minors.
How to register Via the form below.
* For any registration with a medical certificate, a supplement of 10€ will be asked.
FREERIDE PROGRAM
Schedules freeride
  ⯈ Friday, May 26th | 10am to 6pm |
  ⯈ Saturday, May 27 | 9am to 6pm |
  ⯈ Sunday, May 28th | 9am to 5pm |
  ⯈ Monday, May 29th | 9am to 4pm |
* Exceptionally this year, the Sunday freeride will end early because of the CONTEST PUMPTRACK.

EQUIPMENT & PROTECTIONS
Required equipment Full face helmet | Gloves and pucks
Mauthorized equipment
  ⯈ Longboard
  ⯈ Streetluge
  ⯈ Roller
  ⯈ Freeboard
Protections strongly recommended Elbow pads | Knee pads | Full body suit
PROHIBITED Drift Trike
▶ 2023 EDITION NOVELTY
This year, we invite you to challenge yourself on the new PUMPTRACK at the Embrun water park !
It's going to pumper dry !!!
COMPETITION INFO
Frais inscription 5€
Competition format Skate friendly on the Pumptrack
Prize money Many prizes
Open categories
  ⯈ Junior : for young people from 10 to 15 years old (categories U12 to U16)
  ⯈ Senior: From 16 years old (category U18)
COMPETITION PROGRAM
Contest Junior Sunday, May 28 | 2pm 4pm |
Contest Sénior Sunday, May 28 | 5pm to 7pm |
Junior & Senior Podiums Sunday, May 28 | 7pm to 8pm |
SPORTS PASS - LONGBOARD
RIDER PASS - 70 €
This Sports Pass includes:




Access to longboard competition




Remember to buy your pass online
Extra charge of 5€ for any registration on site.
WANT TO COME ACCOMPANIED ?
This pass is intended for athletes who have purchased for the PASS FULL.
To add a companion, you will receive a specific code by e-mail once your registration has been validated by an administrator.
COMPANION PASS - 85 €
Access to the 3 nights of concerts
Access to the campsite from Friday evening to Monday morning
The official T-shirt of the edition 
And many goodies.
BOOKING IN REALLON
Competition pass only ➔ Possibility of finding accommodation in Réallon
Agency conctact ➔ Agence Lac & Montagne
Phone ➔ 📞 04.94.27.81.27
SPORT CATEGORY INFO FOR 2023
| CATEGORY | YEAR OF BIRTH | AGE IN 2023 |
| --- | --- | --- |
| U10 | 2015 & 2014 | 8 years & 9 years |
| U12 | 2013 & 2012 | 10 years & 11 years old |
| U14 | 2011 & 2010 | 12 years & 13 years old |
| U16 | 2009 & 2008 | 14 years & 15 years old |
| U18 | 2007 & 2006 | 16 & 17 years old |
| U20 | 2005 & 2004 | 18 & 19 years old |
| Senior | 2003 to 1984 | 20 years old ➜ 39 years old |
| Veteran 1 | 1983 to 1974 | 40 years old ➜ 49 years old |
| Veteran 2 | 1973 and before | 49 years & older |
We
are

hautesalpes
Press kit - Partnerships - Others