Kayak
Outdoormix Festival
Kayaking, the most fun sport on the water. Outdoormix shares the same values, conviviality and good humor! In collaboration with the club Eau Vive Embrun and No Pasa Nada, we have opened this discipline to as many people as possible, the objective being to have fun on the water!
If you like competition as much as a river trip with friends, the Outdoormix Festival is for you! Notice to kayakers of all levels, we're back in #KayakCross mode again this year over two days. We promise you 3000€ of NRS gifts for the podiums! There will be something for everyone.
The rest of the time, you can either enjoy the festival or enjoy the local rivers in group. We'll keep your kayaking area at the campsite. And that will never change!
Thanks to the club Eau Vive Embrun and No Pasa Nada for the organization in collab !
RIVER RUNNING PARTY
COMPETITION INFO
Competition format Regional competition of Kayak Cross
Prize money 400€ & de many prizes
Open to 60 kayakers
Open competition From 12 years. Green paging level.
REGISTRATION INFO
Required documents
  ⯈ Valid internationale sport license
  ⯈ Medical certificate (-1 year) for the practice of kayaking in competition*.
  ⯈ Parental authorization for minors
How to register Via the form below.
  **For any registration with a medical certificate, a supplement of 5€ per day of competition will be asked for the compulsory purchase of a FFCK daily license.
COMPETITION PROGRAM
Qualifications Saturday, May 27 | 11am to 2pm |
Finals Sunday, May 28th | 11am to 1pm |
Podium schedule Monday, May 29th | 6pm to 7pm |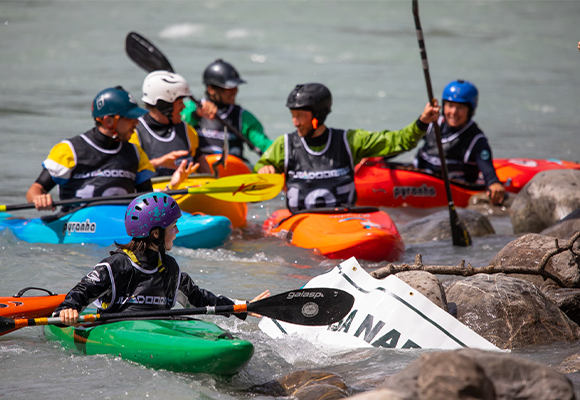 EQUIPMENT & PROTECTIONS
Mandatory protections Lifejacket (Standard "CE en 393") | Helmet (Standard "CE EN 1385") | Closed shoes | Sufficient protection against the cold (neoprene, waterproof anorak,…)